SECTOR-3 provides experienced consultants and teams to offer training, research and policy development for actors preparing for intervention, and to assist, NGOs, INGOs and Governments in the intervention phase of peacebuilding and crisis response. We operate at the juncture of peace studies, crisis response, humanitarian intervention, mediation, global health and rapid human needs evaluation in conflict and crisis.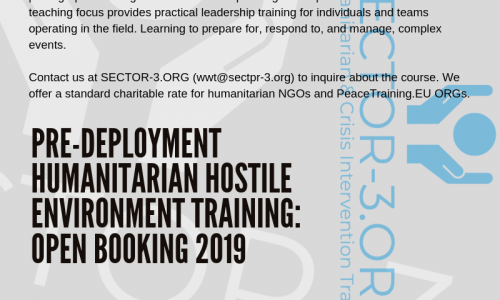 Scotland, KY10 St Andrews , United Kingdom
Sectors

Academic/Research Institute

Community-based organisation

Coorporation/Private Sector

Governmental

International

Military

NGO/non-for profit

Police

Topics

Conflict transformation

(Mission) planning

Civilian peacekeeping and accompaniment

Conflict analysis

Conflict management & conflict resolution

Conflict prevention

Leadership

Mediation & negotiation

Peace education

Peacebuilding

Personal safety and security (incl. stress management and such)

Pre-deployment training for civilians

Pre-deployment training for military

Pre-deployment training for police

Project management conflict-sensitive

Crisis management

Disarmament Demobilization and Reintegration DDR

Mission planning

Designing peacebuilding & prevention programming

Counter-terrorism

Radicalisation prevention

Countering violent extremism

Target Audience

Military

Law enforcement agencies

Policy makers

Civil servants in governments

General public

Local authorities

Media

NGO staff

Teachers

Journalists

Foundation Year
2017
Higher or Secondary Education Establishment
No
Accreditation
Main Training Languages
In order to send a message, please click on this button. Get in contact
Liability Disclaimer
PeaceTraining.eu and its consortium members shall not be liable to you or any other user for any direct, indirect or incidental damage derived from the use of this platform, or any loss of data, opportunities, reputation, or profits derive from the use of this service. Training centres and trainers are responsible for the veracity of the information provided in PeaceTraining.eu platform.