The Civilian Planning and Conduct Capability of the European External Action Service Joins as a Conference Partner
 PeaceTraining.eu and the consortium of partners involved in preparation of the Shaping the Future of Peace Training in Europe and Beyond welcome the Civilian Planning and Conduct Capability (CPCC) of the European External Action Service as an Organising Partner for the Conference.
The Civilian Planning and Conduct Capability (CPCC) Directorate is the EEAS Directorate which is the Operational Headquarters for the civilian CSDP Missions. Individually and collectively, the civilian CSDP Missions promote stability and build resilience through strengthening rule of law on the strategic and operational levels in fragile environments.
The mandates of the civilian CSDP Missions are agreed by the Council of the European Union and delivery is driven by the strategic leadership of the Civilian Operations Commander and under the political direction of the PSC/HRVP. Strong and accountable rule of law institutions, underscored by good governance increases stability and reduces vulnerability to hybrid threats.
There are currently 10 civilian CSDP Missions on 3 continents: Afghanistan, Ukraine, Georgia, Kosovo, Libya, the Palestinian Territories (Ramallah and Rafah), Niger, Mali, and the Horn of Africa (Somalia & Somaliland).
There are 2,599 staff in the field, and 68 in headquarters. Of the staff in the field, 1,412 are internationals, mainly (but not exclusively) from EU Member States. Currently, 1,187 are locally engaged staff. The authorised strength of the Missions is 3,231 and an annual force generation of 700 posts is required. This means processing some 6,000 candidate applications each year. The biggest Mission has 1500 staff, the smallest 5.
There are around 120 different job types throughout the civilian CSDP Missions. From Head of Mission to auditor, forensic archeologist to transport officer, building manager to communications expert, police adviser to prosecutor, legislative drafter to constitutional court judge, legal officer to financial verifier, driver to translator, spokesperson to planner, human resources manager to component manager, chief of staff to press officer, there are many and varied positions across the civilian CSDP Missions. Our Headquarters also incorporates a unique blend of expertise with both officials and seconded national experts who work on matters such as policing, rule of law, procurement, logistics and finance. There are also some Mission staff who are embedded in CPCC, but remain under the chain of command of their respective Heads of Mission. Currently, twenty seven of our Member States contribute personnel to the civilian CSDP Missions.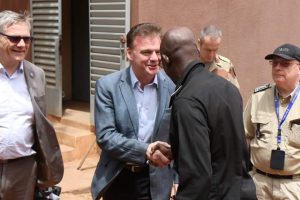 Caption: CPCC Kenneth Deane
For more on the Civilian Planning and Conduct Capability of the European External Action Service please visit: